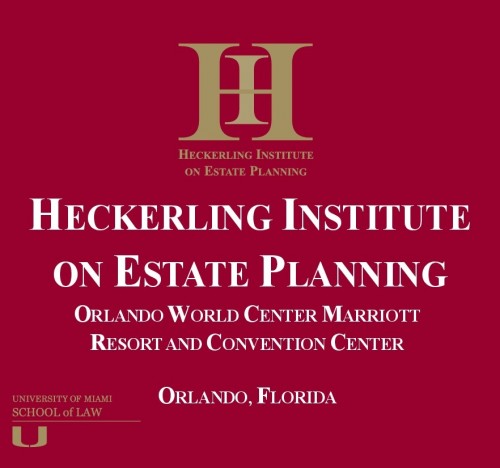 Financial planning and wealth management organization Cary Stamp & Company announced today that CEO Cary Stamp and Lori Colclasure, director of Financial Planning, are attending the 50th annual Heckerling Institute on Estate Planning, Jan. 11-15, at the Orlando World Center Marriott in Orlando, Fla.
The nation's leading estate planning conference, the Heckerling Institute on Estate Planning's annual seminar is not only the top continuing education program for estate planners, it's also a national meeting place for all professionals involved in the estate planning arena, including wealth management professionals, attorneys, trust officers, accountants, insurance advisors and many others. This is the first time Stamp, CFP®, CDFA® Financial Advisor, and Colclasure, a Florida-licensed CPA, are attending this program. Colclasure supervises strategies for Cary Stamp & Company's wealth management clients in estate planning, income taxes and risk management.
In addition to educational programming, the event offers networking and professional development opportunities, as well as an exhibit hall featuring nearly 150 vendors dedicated to the estate planning industry.
"I'm looking forward to gaining insight into the changes in estate planning laws and strategies, developing relationships with other professional resources who can benefit our clients and gaining a better understanding of income and estate tax issues,"said Cary Stamp, a CERTIFIED FINANCIAL PLANNER ™ professional and Certified Divorce Financial Analyst™ in Tequesta, Fla. Cary Stamp & Co. provides an array of financial and wealth management services.
Stamp will also attend the Forum 400 2016 Annual Meeting at the Hyatt Regency Coconut Point in Bonita Springs, Fla., Jan. 16-19. This is the third year Stamp will attend the Forum 400 event, which will feature a wide selection of expert speakers, panel discussions, deep dive sessions and presentations on estate planning, life insurance, tax planning, underwriting and other learning opportunities for wealth management professionals.